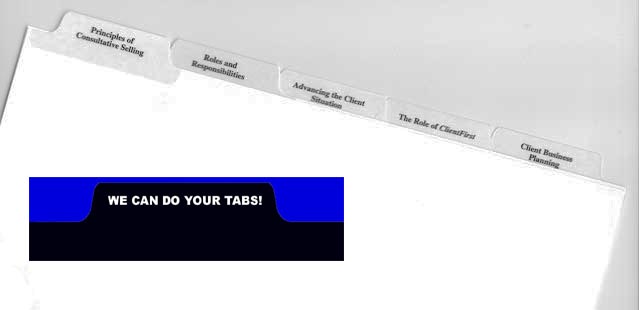 We operate both automated machinery as well as hand fed Scott tabbing equipment.
We have the ability to produce small and large orders in a quick turn around.
We can do both square or rounded tabs.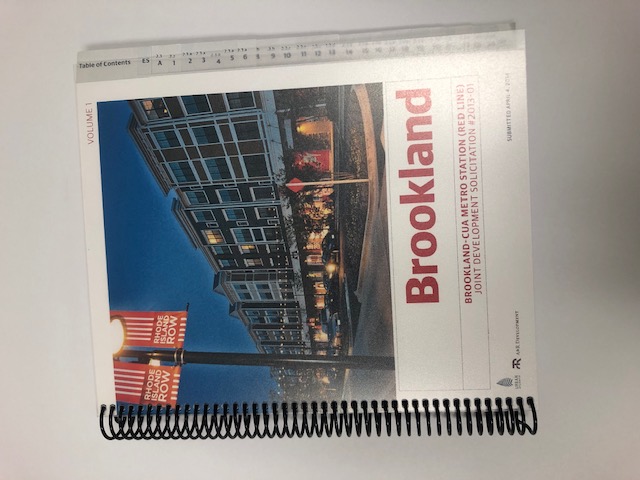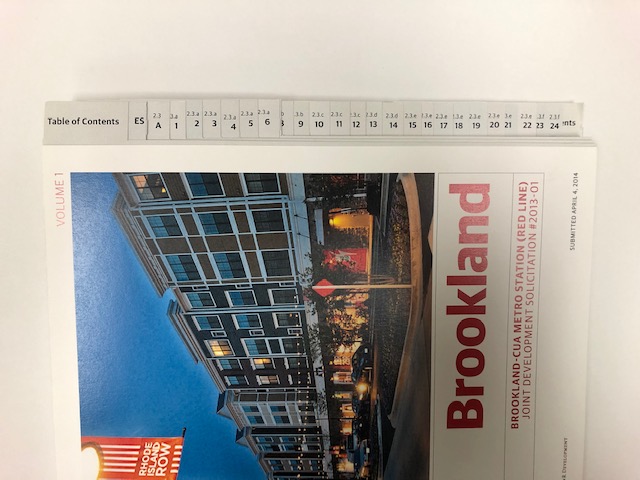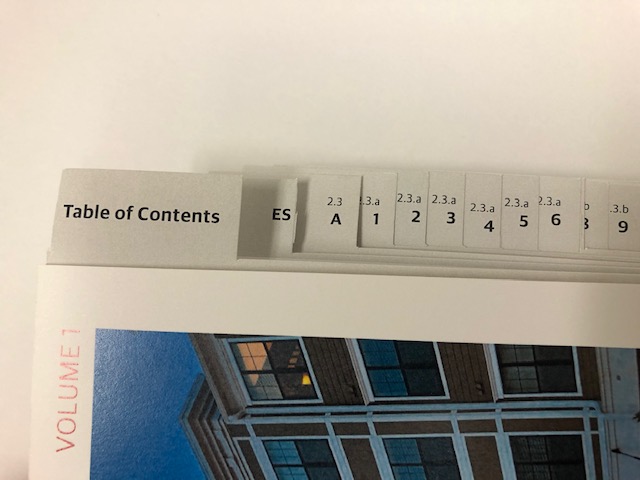 All of our tab orders get the same quality whether they are for copy or printed jobs.

When edge reinforcing, we trim the head and foot of the sheet to make sure there is no extra material that may get jammed in you copy machine.
We punch 3 holes instead of 3-hole drilling. This minimizes the chance that the drilled out hole will get caught in your copy machine.
We collate with an index slip-sheet. This minimizes the chance of an extra slip-sheet throwing off the collation order in your copy machine.
We do standard 1/2" round corner tab extensions.
1/4" and 3/8" tab extensions available.
Click on the colors below or click colors available to see all color.
Call or e-mail to request our tab price list.
Laminate & Die Cut Tabs (no body copy)
(Minimum sheet size of 5.5x6, maximum sheet size of 13x14)



See our multi color laminate image
Laminate & Die Cut Tabs w/ Low Temperature Clear Laminate
Laminate & Die Cut Tabs w/ Matte Finish laminate
Laminate & Die Cut Tabs w/ Special Laser Print Laminate (Docutechable)
Laminate & Die Cut Tabs with body printing
Die Cut only tabs
SGM Supplied Blank Tabs, 110# or 90# White 9x11 Index, any cut (ask about A4 index)
Reinforce 1 side bind edge, index stock
Reinforce 1 side bind edge, bond or offset stock
Reverse or Standard Collate
3 Hole Drill
Pre-Punch index stock, GBC, Wire-O, Plastic Spiral, Velo…
Shrink Wrap
Shrink Wrap with SGM supplied chipboard
Slip Sheet between sets

We manufacture copier tabs.
Paper stock is available in 90# index weight.
Bank set selection 5th cut.
Collated per your request.
1250 tabs per carton.

Ask about various bank selections, three hole punching, 110# index, laminating the tab extension with special laser printable laminate.
Call for pricing.
We can print your index tabs.
We will supply the paper.

We will print.

All you need to do is send a PDF of your image.
Call for an estimate.
When setting up your tabs, leave a ½" margin on the head and ½" margin on the foot.

On an 8.5x11 sheet after stripping the margins, there is an 8.5 x10 area to work within.

Next, draw a line 7/16" from the face, across the 10" dimension. This leaves you a 10.00" x 7/16" area to print your tabs.

Now divide the 10" by the bank you are stripping. For example, for a bank of 11, divide 10" by 11 resulting in .909". Thus you have a .909" by 7/16" area to print each tab.

Center and print.

Remember text or solid bleeds that fall outside this area will not be cleaned off correctly when the tabs are die-cut.

Tab Template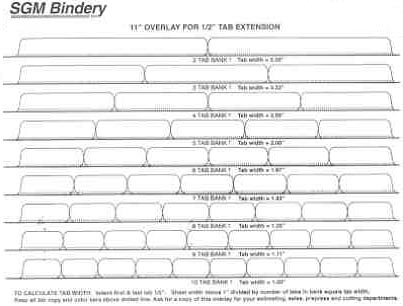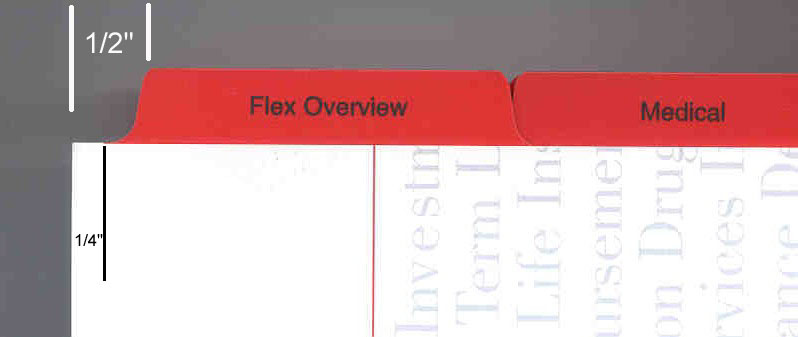 Body Copy vs. No Body Copy:
Our high speed tabbing equipment has heated rollers.

In some cases, when tabs with body copy are run through the heated rollers, the ink bubbles or even gets lifted off the sheet.
Use heat-resistant and wax -free inks and varnishes when supplying printed tabs to help eliminate this problem.
Porous stocks are optimum for Mylar jobs because air has the ability to escape into the paper. Uncoated, 110# index stock is the most commonly used. Coated stocks, along with heavy ink coverage, can trap air and create bubbles that can distort the readability of the tab
Tabs without body copy have no problems.

We can do tabs with body copy on our equipment that do not have heated rollers; however, the speeds are slower.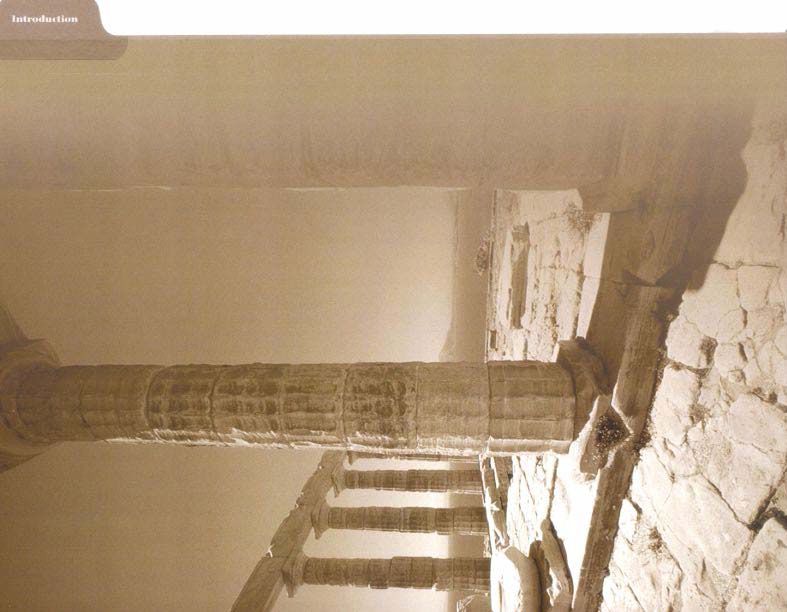 This is a sample of a tab with body copy.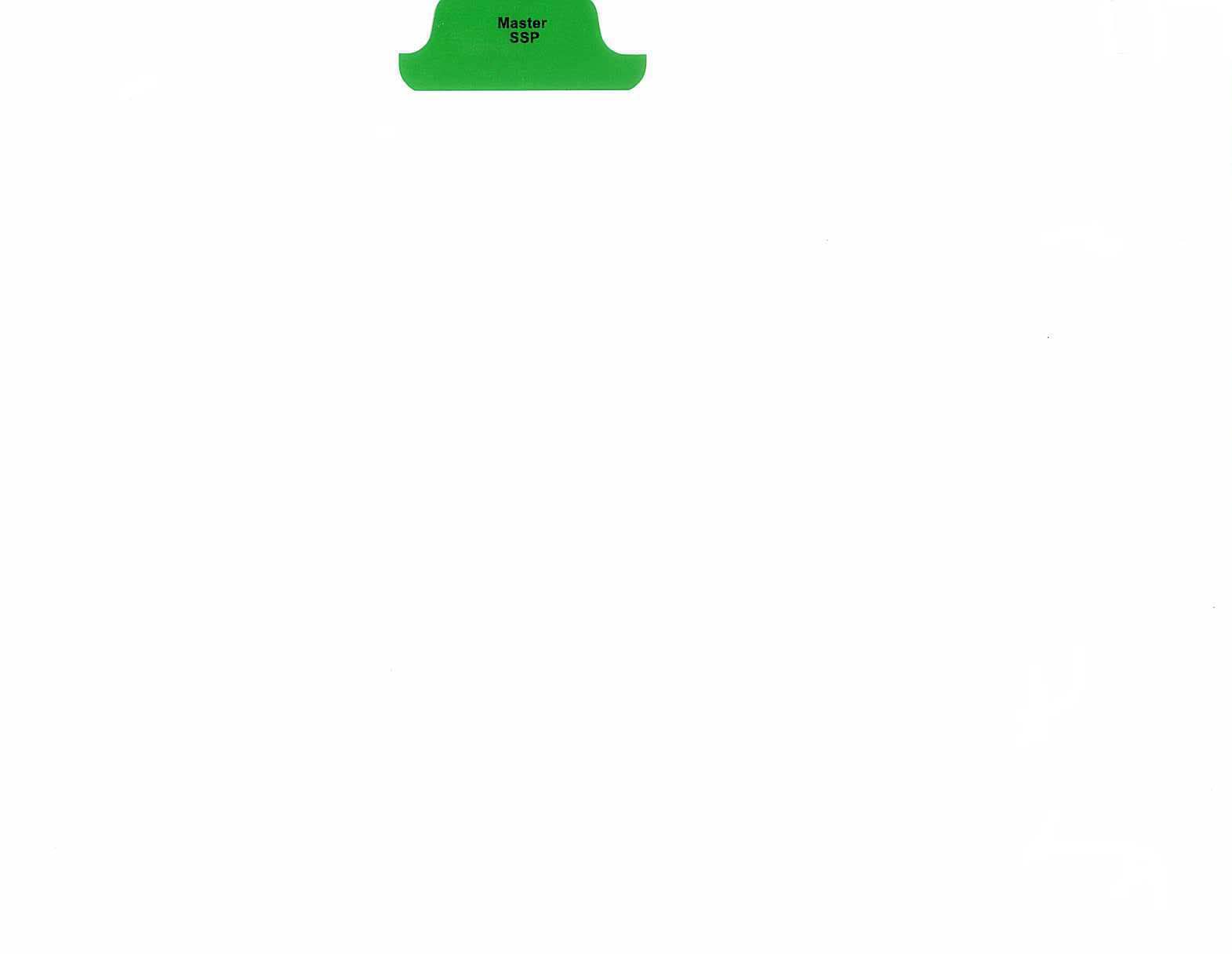 This is a sample of a tab without body copy.
The type of ink used and the amount of coverage affect the ability of the laminate to adhere properly. The laminate is heated and applied to the sheet. The laminate may not adhere properly if the ink is not wax-free or the coverage is too heavy. There is a special cold laminate for this application.
Consider this when planning tabs and if you have any concerns, send us a sample and we will test it. It is better to locate a problem before rather than after printing a job.