Three hole drill/punch standard procedure.

Definitions:

DRILL:
A hollow drill bit used in a paper drilling machine to produce 1 or more holes in paper stock placed between the drill bit and drill table producing round holes 1/8", 1/4", 5/16" and 3/8" Dia. Drilling often produces edges that are dimpled and adjoining sheets that are stuck to each other at the drilled hole. Very flexible between hole and hole to paper edge positioning.

PUNCH: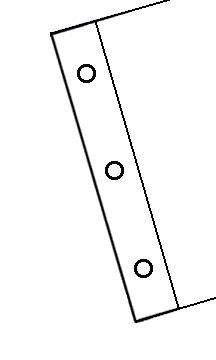 A solid punch pin and mating die placed in a punching machine used to cut out the material placed between the punch pin and die in many shapes and sizes. Punching normally produces clean cut edges with less sticking at the hole. Limited hole positions. Generally a higher quality hole than drill.
3-Hole drilling is often used to mean either punching OR drilling. Normally paper stock or paper stock with light coatings is drilled. Heavy plastic stock, heavily coated paper stock or paper requiring quality higher than drilling is punched.
The position of the holes in stock is determined from a customer-supplied sample. In the event the customer instructions are "Use a standard" hole and pattern we must advise them there is not a standard that applies to all jobs.
STANDARDS:
We have adopted the following as SGM Bindery standards when the customer has signed off on preparing a customer sample for holes.
Bound Books:
5/16" Dia holes (either drilled or punched at our discretion) located within the book such that the holes do not break into the binding hole or glue. This could put the center of the 3-holes as much as 1/2" or more into the book as measured from the bind edge.
Loose leaf book materials:
A hole pattern 4.25" between hole centers with a 1/4 or 5/16" Dia hole placed 5/16 to 3/8" to center of hole from spine edge of paper, similar to the holes punched on a "Punchodex No. P-39" office supply 3-hole punch.
As always, SGM can provide sample material.