Here are some tips to ensure a great looking product when mechanical binding.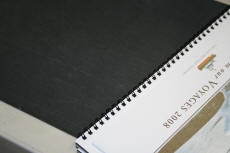 Always provide 1/2" spine gutter to avoid punching into text.

Oversized covers should be separate from text when shipping to the bindery. Oversized covers on the head and foot are not recommended, they are harder to pack and have a greater chance of being damaged in shipping.

Don't forget, when shipping a book with covers in place, slip sheet or chip board are not needed as separators.
Dry ink and uniform paper quality flows the best through all production machines and provide the best finished books.